University of Southampton Music Dept Presents...
Ralph Rolle Drum Master Class - Limited Tickets
Sun 3rd Mar
Doors:

2:00 pm

/
Show:

2:30pm
(Showtimes Approx)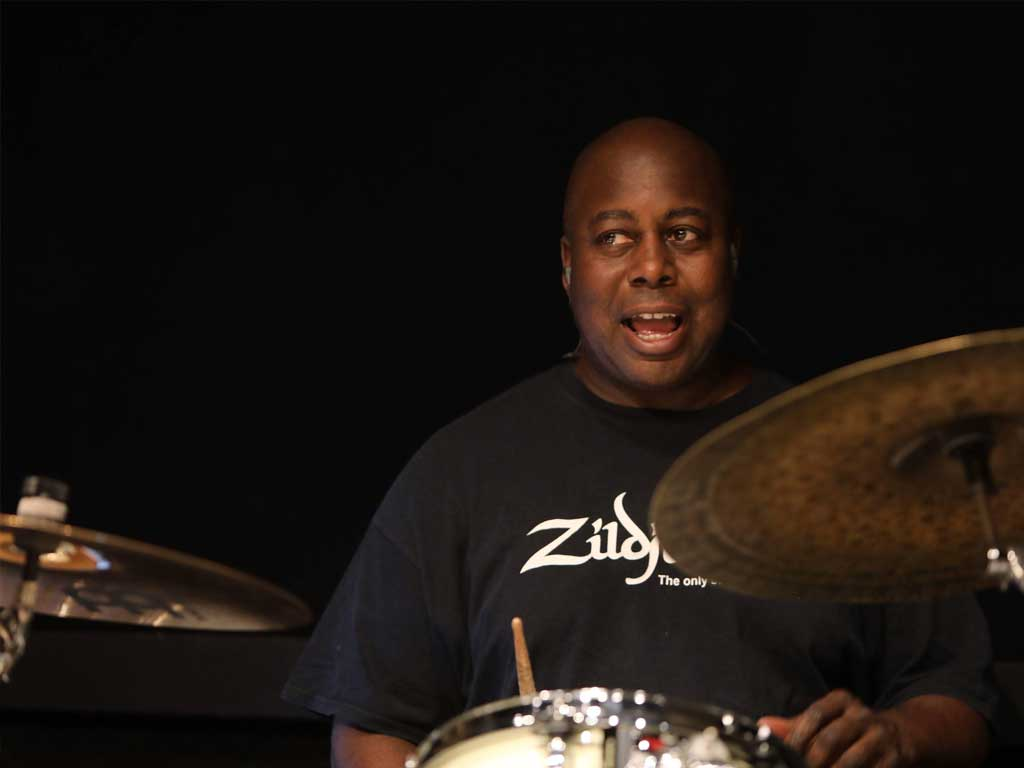 Drummer with 'Chic and Nile Rogers' Masterclass
£12 Adv / £14 Door
Ralph will be doing some drumming demonstrations, plus he will talk about being a session musician (rehearsal techniques etc) and also about how to get into the music industry as a performer. He will also chat about his time in the music industry and what it's like working with Chic and Nile Rogers and being a session musician for A-List superstars like Lionel Riche and Sting.
This is an unmissable opportunity to get up-close and personal with one of the best session drummers in the world. Not to be missed.
Ralph Rolle
Ralph Rolle is a drummer from The Bronx New York (Bronx River Projects). As far back as he can remember he's always marched to the beat of a different drum.
He has been playing professionally since the age of 18 and It is no surprise that with more than 4 decades of professional experience, within the music industry, he enjoys an illustrious career as a much sought after drummer and producer.
His performance and recording list include Nile Rodgers and Chic (for which he is best known), Sting, Bono, Bette Midler, Paul Simon, Aretha Franklin, Queen Latifah, LL Cool J, Eric Benet, Erykah Badu, Roger Daltrey, D'Angelo, John Legend, Paul Simon, India Arie, Elvis Costello, Smokey Robinson, Slash, Mickey Dolenz and many more. Ralph also appeared in the Lady Gaga, David Bowie Tribute in the 58th Annual Grammy Awards. Ralph was voted second best Live Session Drummer by Rhythm Magazine in December 2018, with over 100,000 votes cast worldwide. . Chic have just completed a stadium tour of the U.K. and Europe following the release of the new album, "It's About Time",
N.Y.U invited Ralph to be guest speaker to classes of graduating students where he utilized his lesser known talent as a motivational speaker. The drum clinics that he delivers are lessons in both music and life, which attract not only drummers but all types of musicians, singers and those who are interested in growing in a positive way. He has also delivered masterclasses in his craft, as well as being L.A .Reid's personal drum coach. In the last three years, he has delivered drum clinics across Europe and Japan. He has also delivered a masterclass for the students attending the institute at Abbey Road Studios where Nile Rodgers is now the creative director.
For 14 seasons, Ralph was the Drummer for NBC's "It's Showtime at The Apollo" with Ray Chew & The Crew and have also played on "The David Letterman Show".
In 2018, Ralph established his own band, Ralph Rolle and the FUNK Patrol, with bands operating in both Japan and Europe, Ralph has brought some of the funkiest musicians he knows together, to play the very best in funk and souk from the 70s and 80s. He hopes to tour the U.K. in 2019.
Ralph also owns a highly successful bakery business which operates in New York and Tokyo, called The Soul Snacks Cookie Company. Fans of his cookies include JLo, Whoopi Goldberg and Prince Albert of Monacco. Ralph uses recipes passed down from his grandmother, who with his mother taught him to bake. Ralph's desire is to motivate and inspire others to pursue and to live their dreams.
Nile Rodgers and Chic will tour the USA from January to May, supporting the legendary Cher.