PRB & Black Kat Boppers Present...
Big Sandy & His Fly-Rite Boys
Fri 8th Mar
Doors:

7:30 pm

/
Show:

8:30pm
(Showtimes Approx)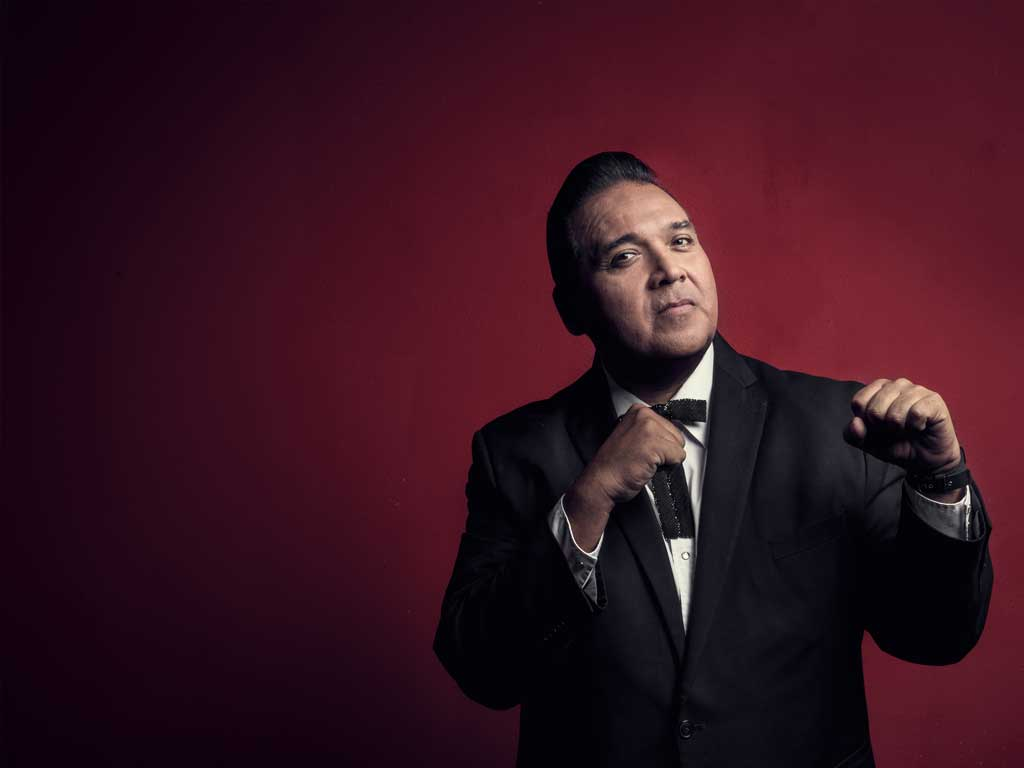 £14 Adv / £16 Door
American roots swings, rockabilly and pure, classic Rock n Roll!!! You'll go wild, bopping to all their tunes ~ your feet will be smiling by the end of the night!!!
Big Sandy & His Fly-Rite Boys
Since forming 25 years ago, Big Sandy and his Fly-Rite Boys have toured continuously and become torchbearers of American roots music. As a singer, songwriter, bandleader, and entertainer, Big Sandy has few contemporaries. With a dynamic live show, Big Sandy and his Fly-Rite Boys at once acknowledge and celebrate the past while setting the stage for further exploration and interpretation of the musical forms they are most passionate about. Beloved by many, the band has released fourteen albums of undiluted, upbeat and soulful music pulled from honky-tonk, western swing, rockabilly, rock & roll, rhythm & blues, soul and doo-wop. Their latest album, 'What A Dream It's Been', on Cow Island Music, is a collection of the band's favorite original numbers - all acoustic, reinterpreted with fresh new arrangements, rhythms, and instrumentation. The band has toured constantly for the past two decades, playing over 3,000 live shows, which include performances at the Grand Ole Opry, opening for the likes of George Jones, Johnny Cash, Morrisey and The Monkees, along with several appearances on Late Night with Conan O'Brien and many national radio shows.
Black Kat Boppers
Hot Boppin, Groovin' 4 piece group playing rockin, roots music with a Guitar, Double Bass & stand up Drums
Black Kat Boppers hail from down on the South Coast Water Way in Southampton and are 4 fellas who love to play hard boppin', jump up, rockin' blues, dance music.
"With The Black Kat Boppers you get to immerse yourselves in that rockin' feelin'. Think of us as 'rockin the blues' if you must, cos that's the way we roll!" – Roy Phillips
Black Kat Boppers formed In Dec 2009 after some chance meetings, speculative phone calls and a little bit of fate. A shared love for rockin' roots music was clear and they haven't looked back since. There's been triumphant performances at Glastonbury, Port Eliot, Bestival & Hyde Park (with Blur & The Specials). They've rocked Notting Hill Carnival, Rockabilly Rave & Latitude, not to mention performing a memorable set with Florence and The Machine at Bob Geldof's 60th birthday party. They've been joined on stage by Damon Albarn as well as working with him in the studio and have regularly had Clash legend Paul Simonon playing with the band. Paul Simonon, who has been a great support to them, also appears on their debut album "Boppin Atcha" and has done the sleeve artwork. The album is released on Foot Tapping records in September 2013.
Right across the board people seem to be lovin' it – young, old, stupid, clever, hippies, punks, students, drop outs, mums, dads, drunks, weirdos, ravers, strippers, rockers, mods… Everybody loves that raw sound!!!
Gaz Mayall declared "I've seen hundreds of rock n roll bands and The Black Kat Boppers are right at the very top!!".
"When I first saw The Black Kat Boppers I was sat on a hill at a festival and could hear this music in a tent that literally grabbed me by the lapels and dragged me in" – Paul Simonon (The Clash/Gorillaz)
"Wow those boys can really play" – Damon Albarn (Blur/Gorillaz)
"Really rebel rousing music" – Bono