Limited 50 Early-Bird Tickets @ £12
No Jacket Required
Sat 6th Oct
Doors:

8:00 pm

/
Show:

9:00pm
(Showtimes Approx)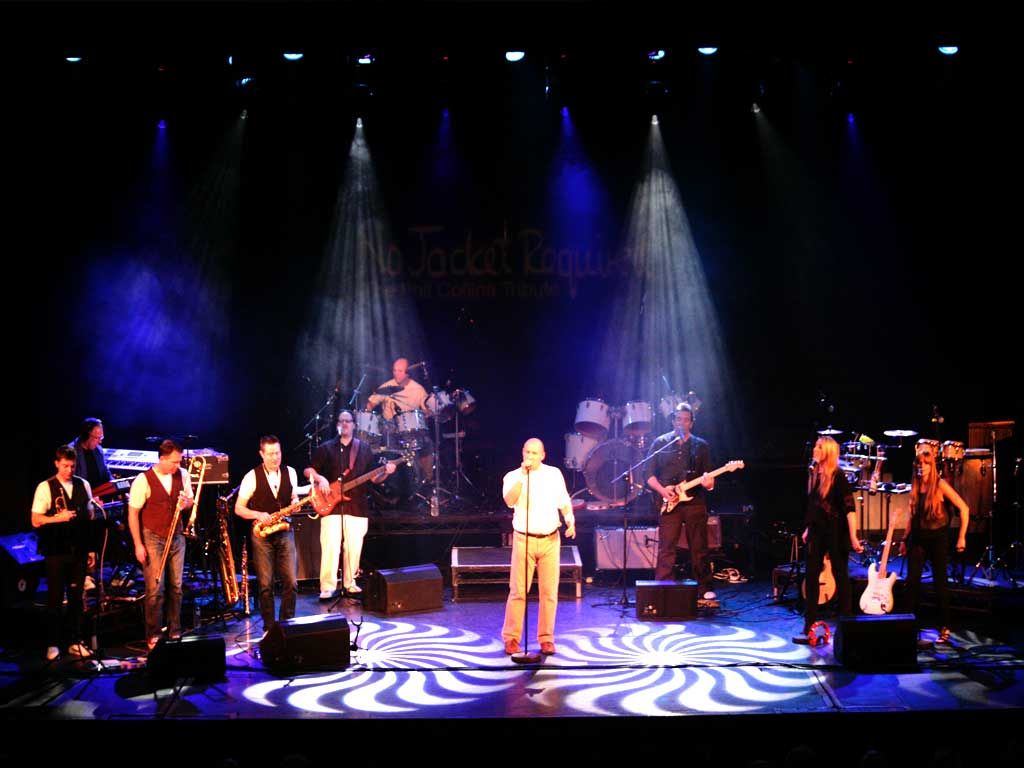 Brilliant Phil Collins Tribute
£14 Adv / £16 Door
If you are a fan of Phil Collins then don't miss this one. Free air drum kits are available behind the bar for those that don't mind looking like a fool!
No Jacket Required
No Jacket Required – The Phil Collins & Genesis Tribute
The UK's leading Phil Collins tribute returns once again to The Brook. This stunning 10-piece band performs a show featuring every Top 10 hit single from Phil's award-winning career, both as a solo artist and with Genesis. Including such songs as Against All Odds, Easy Lover, I Can't Dance and Invisible Touch (and not forgetting the classic In The Air Tonight), there's something for everyone in this spectacular show which brings acclaim from all who see it. No Jacket Required always sell out at The Brook, and this show is not to be missed – book early!
Both Sides of Phil Collins' Career – UK's top tribute perform Hits Tour
To have chart-topping success as a solo artist and as a member of a group is something that not many musicians have achieved. Over a period of 40 years though, that is a perfect description of the career of Phil Collins – and top tribute act No Jacket Required are to perform all of those hits when they return to The Brook in Southampton.
"It's the show that he never performed", says No Jacket Required frontman, Dave Whitehouse. "We will be playing all of the Top 10 hits by both Phil Collins and Genesis in the same concert. Every song on the show is a hit – and there are so many, we'll be on stage for more than two hours!".
When you look back at that catalogue of hits, it's easy to see why the voice of Phil Collins provided a constant soundtrack to the 1980s and early 1990s. Collins came from behind his drum kit to take on vocal duties in Genesis for their 1976 album 'A Trick Of The Tail', following the departure of Peter Gabriel. 'Follow You Follow Me' became the band's breakthrough hit in 1978 and was to become the first of 20 Top 10 hits by either Phil Collins of Genesis over the next 20 years.
When Phil Collins released his first solo single, in 1981, few would have thought that he would match the success of Genesis – yet 'In The Air Tonight' became a worldwide hit and his solo career would go on to achieve even greater heights. From that point onwards, Collins would alternate between solo and group projects but hit singles were produced at every turn. Yet apart from a short charity appearance at Knebworth in 1990, his solo band and Genesis never performed together.
"Phil Collins' voice identifies not only his own songs but also those of Genesis and in fact many people often confuse the two", says Dave. "We have always performed a Genesis medley in our shows but this year we are going to perform all of those songs in their entirety. Our new Hits Tour really is the best of both worlds – every Top 10 single by Phil Collins and Genesis!".
Based in West Sussex, the 10-piece band features a live brass section and backing vocalists. Lead vocalist Dave Whitehouse has performed as Phil Collins for 17 years and is well-prepared for the new show, having previously fronted a Genesis tribute and meeting the man himself back in 2005.
The band even follows in Phil's footsteps by raising money for homelessness. They have been supporting The Bridge Trust in West Kent for many years and recently passed the £14,000 mark for their donations. "Another Day In Paradise is a classic Phil Collins track in that it has a message which connects with the listener on a personal level, like so many of his songs", says Whitehouse. "We perform it at every show and it seemed apt for us to collect for a homelessness charity too. Phil has done so much for charity over the years and it's a cause which he is well-known for supporting." The band's souvenir brochure will be on sale at the show, with all monies raised going to the Bridge Trust.
"Name a Top 10 hit by Phil Collins or Genesis and we'll be playing it", enthuses guitarist Vic Chase. "It'll be a great show and we are excited about taking it out on tour this year. We have had some wonderful evenings at The Brook and our return is sure to another memorable show.
No Jacket Required receive great reviews whenever they play, with many saying the band are so close to the original that you can hardly tell the difference. With this show combining such songs as Against All Odds, Easy Lover and Sussudio with Genesis hits like Mama, I Can't Dance and Invisible Touch, it really is going to be a unique concert not to be missed.
For more information on the band, visit www.nojacketrequired.co.uk or you can follow them on Twitter '@PCTribute'.