Live 6-Piece Fusion of Saucy 20's Swing 8pm-1am!!
Electric Swing Circus
Sat 19th May 2018
(Doors:

8:00 pm

)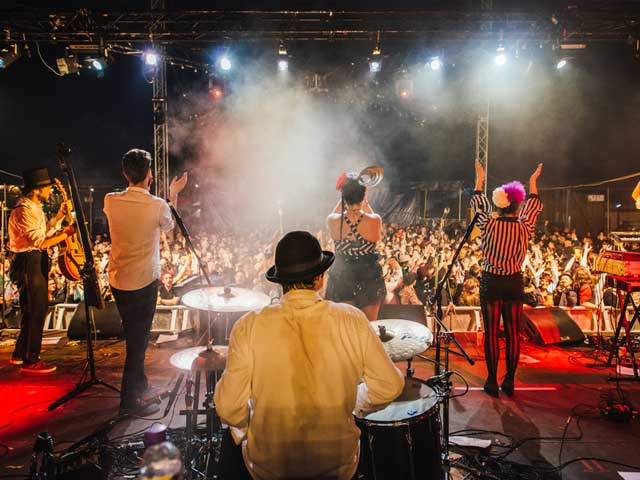 Dazzling, explosive night of Electro Swing & Jazz
£8EarlyBird / £12 / £15Door
Fancy a night of titalating 20s Swing and stomping Electro Beat Jazz? ESC are a wild and fun fusion with an explosive, contagious sound that'll have you up dancing throughout their sassy, dazzling show. Joined by dream team Still Moving DJs - Bliss
Electric Swing Circus
The Electric Swing Circus is a live 6-piece fusion of saucy 20's swing and stomping electro beats. Drawing influence from 1920's swing and jazz, the explosive sound of the Electric Swing Circus reverberates back through time, re-inventing the genre of electro-swing for an ever expanding, multi-generational audience.
The ESC's sound is a powerful combination of electric double bass, vintage samples, gypsy-jazz guitar, keys, live drums, dirty synths and electro beats. Fronted by a sassy female double-act, with extensive variety of vocal styles, the ESC delivers a consistently dazzling show. Their debut, self-titled album is available now on Ragtime Records.
The band are active in the electro-swing scene, running their own annual festival, Swingamajig, and regular club night, Hot Club de Swing, as well as curating acts for events and stages across Europe.
The band first formed in 2011, with their preview EP, Penniless Optimist, released in September that year since they have toured across 4 continents, produced two full length albums and are one of the most exciting bands on the live circuit
"One of the highlights of Glastonbury Festival…" – Official Glastonbury Guide 2013
Ladies and Gentlemen, hold onto your hats. The circus is coming to town!
Still-Moving DJs
Still Moving DJs
They'll take you on a journey around the world and through the ages!
The Still-Moving DJs are a lively, unique and alternative DJ duo with a well-stocked but carefully chosen selection of music by great musicians, with live percussion, ship lanterns, original vinyl records, gramophones, tankards and… dinosaurs!
Seen and heard regularly at music venues, festivals, weddings, parties and events, The Still-Moving DJs bring you a diverse range of real music from around the world.
Given the opportunity they have the ability to raise the roof anywhere they play.
Expect Electro Swing, Jazz, Latin, Balkan, Gypsy Jazz, Afrobeat, Soul, Folk, Reggae, Dub, Funk and more …
Bands and performers the boys have worked with or supported…
They've often joined other bands and performers at various events and festivals, including Jools Holland, Amadou and Mariam, The Levellers, Tom Jones, Professor Elemental, Van Morrison, The Bad Shepherds, Dub Pistols, Asian Dub Foundation, The Black Seeds, Neville Staple, Pronghorn, Jimmy Cliff, Bill Bailey, Gentleman's Dub Club, The Smerins Antisocial Club, The Uplifter ;), Real Tuesday Weld, KT Tunstall, Electric Swing Circus, Caravan Palace, Rodrigo Y Gabriela, The Beat, Vibronics, Seasick Steve, Bellowhead, Pronghorn, The Correspondents, Imelda May, Paloma Faith, Easy Star All Stars, Kitty, Daisy & Lewis, Jamie Cullum, The Stranglers, Channel One Sound System, Ziggy Marley, Moscow Drug Club, Sheelanagig, Men They Couldn't Hang, Tim Minchin, Max Raabe und Palast Orchester, Coco and the Butterfields, and many many more …