Skid Row
with
Blue Nation
,
Western Sand
Thu 23rd Aug
Doors:

8:00 pm

/
Show:

8:15pm
(Showtimes Approx)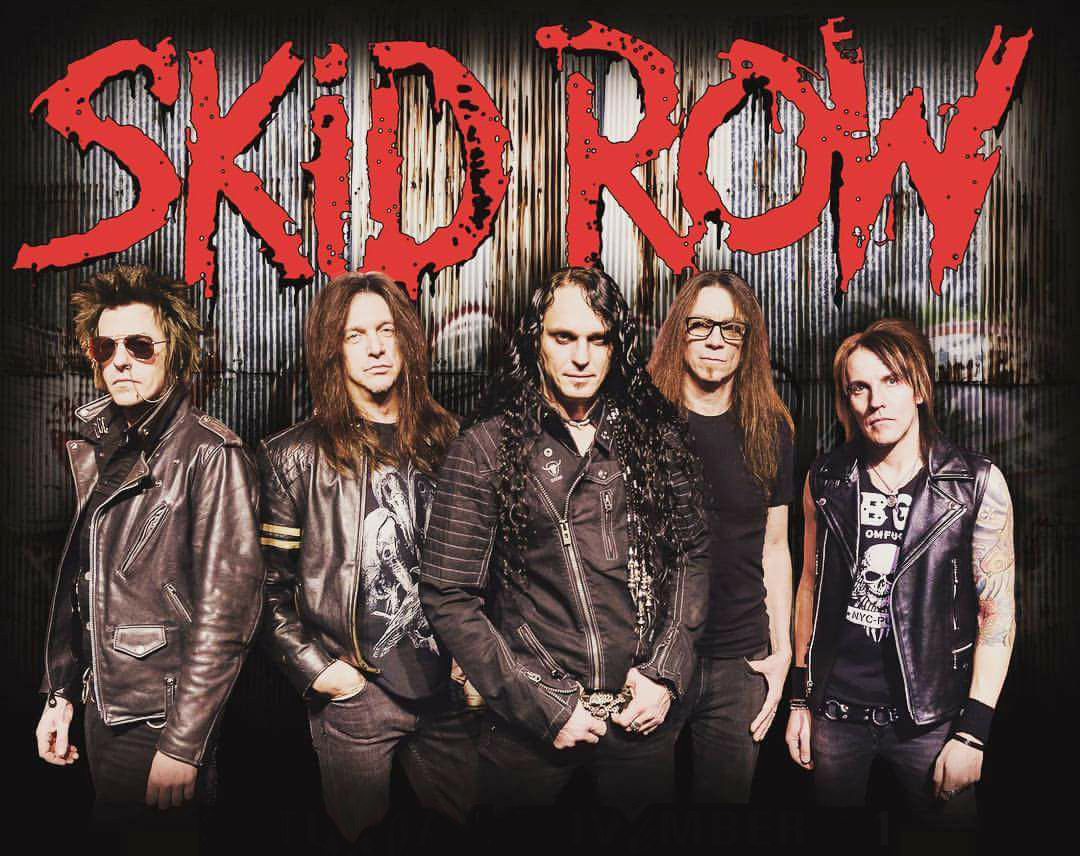 Heavy Metal Rebellion
£25 Adv / £28 Door
A monster night of heavy metal as Skid Row come hurtling to The Brook as part of their extensive UK tour. These rock gods are sure to deliver a meaty, highly charged performance that will have the audience head banging and will be keeping even the most hard core fans happy. These guys are as subtle as ten tonne of bricks.
Skid Row
The first rebellion started in 1986.
New Jersey kids, punk and metal attitude, determined to conquer the world. All for one, banded together with single minded purpose. The battlefield was the stage, the songs their arsenal in an us against them musical coup d'état.
Top Ten singles. Gold and multi platinum sales. No. 1 on the Billboard album chart. The world was theirs, the rebellion won, until there was nothing left to fight for so they fought each other. Following an ill advised South American tour in 1996, the band was finished.
But the core camaraderie never died.

"When we put the band back together, we needed to reintroduce Skid Row as relevant without relying too much on past success," explains bassist Rachel Bolan. "We wrote songs and hit the road. We sunk our heart and soul into it, letting people know we weren't doing it for lack of anything better to do."

Snake Sabo continues, "We seem to be at our best when we're faced with adversity. It's us against the world again and by us I mean the band and the fans who stick with us and carry the Skid Row torch without fail."

Now, Skid Row is gearing up to record the final installment of the United World Rebellion trilogy.

​Recording new songs means capturing the signature Skid Row energy for drummer Rob Hammersmith. "That sound and energy is what resonates with people and knocks them on their ass! We have a lot of great ideas to work with, so we're all really excited about this new music."

As the energy for the new album and tour is reaching fever pitch, enter ZP Theart."I've been a mad fan of this band since I was a teenager, and to now be a member of Skid Row, is beyond any sense of my imagination!"

"We'll be hitting the studio to get started on some new material and I'm beyond excited to say the least. This is a whole new deck of cards and there's gonna be no holding back! " Theart adds.

Classic dual guitar teams are a key component of great songs K.K. Downing and Glenn Tipton. Scott Gorham and Brian Robertson. Dave Murray and Adrian Smith. Add Snake and Scotti Hill to that list. "Playing as a team for over thirty years, our styles are still as unique as our personalities as unique as our band," Scotti says. "Combine them together on United World Rebellion Chapter Three and you have the Skid Row guitar sound."

That sound is rambunctious exuberance. They got older, but Skid Row never really grew up. United World Rebellion Chapter Three is still the youth gone wild, their musical spark still burning gasoline.

"I will always be that 16 year old kid in front of the mirror, pretending to be Ace Frehley or Michael Schenker," Snake admits. "It's still about writing a great song with your friends, praying it connects with someone. That has never left me. That willfulness will always exist, and there's so much left to say!"

And so the rebellion continues.
Blue Nation
Blue Nation, is a 3-piece band from Birmingham, euphonic riff based rock to create a sound that doesn't fit neatly into a genre and is all the more memorable for it. Their songs are delivered by three accomplished musicians, fronted with stunning vocals. All backed up with impressive gig experience, stage presence and great songs.

Neil is the main songwriter, guitarist and singer and has enigmatic stage presence with vocals to match! Neil specialises in the truth when it comes to song writing. With love, life, hurt and sorrow it's all wound up and created in Blue Nations songs. During a festival sound check "Big Mick" sound engineer for Metallica said "where did that skinny kid (Neil) get that great voice from?" We still don't know and neither does he…
Influenced by Hendrix, The Who, Small Faces, Cream and more recently Rival Sons and Black Keys. Says the best gig he has been to is the Foo Fighters with Joan Jet at Maddison SQ Garden

Chris creates the rhythmic drum patterns that underpin the guitar and vocal work in the band. He is a Black Country lad who in his early years lost himself in art. Attracted to music in the Brit pop era with bands like Oasis and especially Alan White on drums, he took things a stage further by studying music at Wolverhampton College. He has worked with song writing geniuses like Scott Mathews, Dan Whitehouse, X factor winners and even a boy band. Right now he describes himself as a guitarist and drummer, an advocate of eccentricity and a hater of liquorice.

Luke completes the rhythm section by adding his intricate yet extremely effective bass lines to the songs.

Started playing bass guitar from a very young age, so young the bass was actually bigger than he was. Developing his playing and bass techniques over the years by playing in various different bands, supporting many big names and paying close attention to the greats of the bass world, like Jack Bruce, Jon Entwhistle and John Paul Jones. This development has resulted in him getting an endorsement from Lakland Basses. Musical influences include Beatles, Zeppelin, Floyd and Zappa. As an avid Classic Car, Scooter fan and as he puts it a Mod For Life, the description is complete.

They play top venues in the major cities of the UK and further afield with tours of NYC's Greenwich Village and Manhattan.

Their most prestigious performances have been on the Main Music Stage @ F1 British Grand Prix Silverstone, twice. The quirkiest was The Tramlines Festival Sheffield, acoustic on a moving Tram.

Their new album "Steady Your Soul" was recorded at Castle Rock & Revolution Studios in Greater Manchester, with the experienced and very talented Andy Macpherson. Andy, works extensively with The Who, Eric Clapton, The Buzzcocks and many other top artists. He has recorded, produced and mixed the album, that was mastered by Jon Astley - Peter Gabriel, Porcupine Tree, Tori Amos, The Rolling Stones, Judas Priest.

Classic Rock Magazine selected "Morning Light", from the album, as a track of the week. In the July issue they wrote that Morning Light is one of the "Most watched videos on the CR website right now."
CRM described Blue Nation as indie blues,
"Morning Light is a thumping example of exactly that, a song with riffs that have, in all likelihood, been hewn from driftwood found on the banks of the River Rea delta itself."
Western Sand
Since 2012, Western Sand has been rapidly building a reputation as one of the best and brightest young Hard Rock bands in the UK. Through persistent touring; the band have played over 400 shows during this time, and started to build up a loyal nationwide following. This relentless attitude, commitment and work ethic has led them to support high profile acts such as: Black Star Riders, Michael Schenker, Nazareth, GUN and Inglorious to name but a few.
Western Sand's distinct sound combines classic Southern Rock influences with a fresh and contemporary edge. This potent musical blend combined with their energetic and powerful live performances and two critically acclaimed EPs; is proving to be a hit with British rock fans across the country.
Western Sand is:
Tyler Hains – Vocals / Guitars
Nathan J. Kay – Drums & Percussion / Vocals
Findlay Hotchkiss – Bass / Vocals
Jimmy Bradshaw – Guitars