Some Mother's Do 'Ave Em - Mother's Day Balcony Bar Special
with
It's a Pizza Thing
,
Mango Thai Tapas Street Food
,
Mark James from Soul 45 DJ
,
Beatnik Emporium
,
Primal Suds
,
Daff Illustrations
,
Kate Woodley Smith Art
,
Sweet Pea Ceramics
,
Black Gecko Jewellery
,
Helen Harvey
,
Nina's Little Gems
Sun 11th Mar
Doors:

2:00 pm

/
Show:

2:00pm
(Showtimes Approx)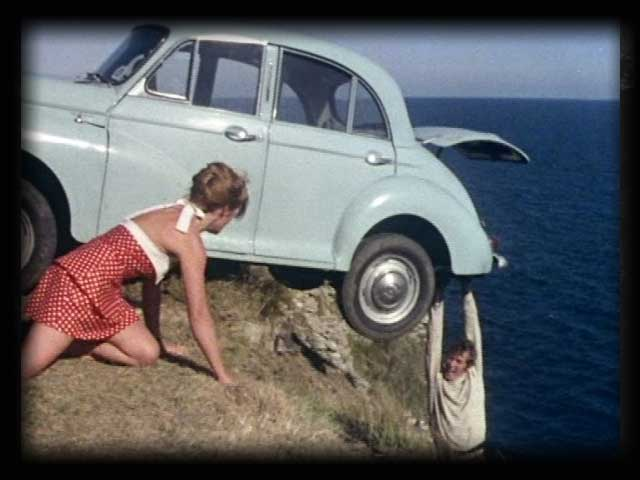 Family Day Celebrating All Those Yummy Mummies
£2.50 Adv / £4.00 Door
Accompanied Under 18's Free.
All those yummy mummies out there ~ we all need a break from it all once in a while and what could be better than spending the day with friends and family at The Brook's Balcony Bar for our very Special Mother's Day Event?
Enjoy a lazy afternoon on us with a number of Craft & Cheese Stalls, Street Food, DJ, Kids activities, G & Tea and lots more. We've got it covered so you can relax!
Some Mother's Do 'Ave Em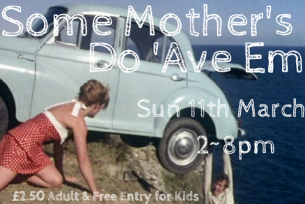 Some Mother's Really Do 'Ave Em! And it's always a treat to have a day off from it all and be spoilt rotten.
And this Mother's Day, we've got it all covered so you can sit back, relax and enjoy your special day. With activities to keep the kids occupied, quirky Gin Teapots to keep you topped up, exclusive Mother's Only Drink Passes on offer, a range of lovely craft, cheese and cake stalls to peruse and indulge in, a selection of Street Food to get you out of cooking and a DJ with all your favourite tunes to get in the mood after a hard days shopping downstairs!!!!
Can safely say we've got Mother's Day sorted!!
And for the first 50 tickets sold, we'll be offering a FREE GLASS OF PROSECCO!
Make sure you #Brookyourtickets quick!!
*2pm-8pm
*Craft Stalls
*Cheese & Homemade Cake Stall
*Street Food from It's a Pizza Thing & Mango Thai Tapas
*Live DJ set with Mark James (Soul 45) with a Mother's Day Twist of Tunes
*Special Edition G & Tea
*Mother's Day Drinks Pass
*Children's Activities
*Special Mother's Day Photo Booth
It's a Pizza Thing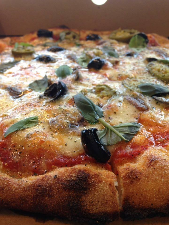 There will be hot food outside and we are delighted to have 'It's A Pizza Thing' joining us.

"It's a pizza thing specialise in, you got it, homemade woodfire Pizza!! With the clay oven in the truck. Our own recipe dough hand stretched and cooked to order."

Grab some nosh between 4.00pm & 7.00pm.

Mango Thai Tapas Street Food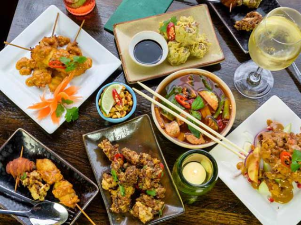 Mango Thai Tapas Street Food
Mango brings Tapas food to The Brook. Expect all the delicious delights you'd get from dining at one of their restaurants.
Thai cuisine is a blending of salty, spicy, sweet & sour. This balance of tastes is the essence of their dishes, which are made using fresh ingredients every day.
Mark James from Soul 45 DJ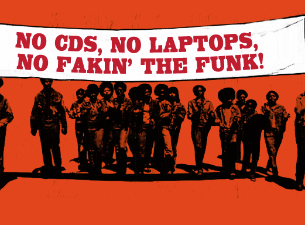 PLAYING 7″ VINYL IS FUN
In the last 3 years years THE SOUL 45 DJS (Mark James & Neil Walters) have played host and supported big international artists and local acts including Trojan Sound System, Eddie Piller, Public Service Broadcasting, Craig Charles, Don Letts, Hannah William & The Tastemakers, Freddie & The Freeloaders, Black Cat Boppers, The Fliks, DJ Format, Mr Thing, New Street Adventure and Afrika Bambaataa to name just a few.
As djs we take pride in the fact we don't play from prepared cdrs, laptops, or ipods, enjoying the warm rich sound that only vinyl records can deliver. We've had our fair share of playing mp3s using vinyl emulation software over the years but often felt that we were fooling ourselves and forgetting all the hard work we put into digging for vinyl in record stores, fairs, carboot sales and flea markets. Vinyl records has prevailed through those testing times and proved that its the one format that will never be replaced, with contemporary artists and respectable djs of all genres seeing the importance of vinyl.
Going back to vinyl, playing out these little records and partying with like minded people is great. We've never had so much fun.
THIS IS NOT ABOUT DJ TECHNIQUE, BUT ABOUT GREAT TASTE
Everything from classic floor fillers to forgotten and rare gems in Motown, Funk, 60′s and 70′s Soul, R&B, Northern Soul, Reggae, Ska, Dancehall, Disco and the latest releases – All played out on glorious, original 45 rpm vinyl, providing a richer, more accurate mix of sounds with a superior feel and presence that you won't hear anywhere else in the mainstream club night circuits in Southampton. Exclusively to SOUL 45 we also create one off pressings that nobody else has on 7″, either LP tracks which were never issued as singles, our own edits or completely unreleased songs that deserve to be played out to a wider audience.
Beatnik Emporium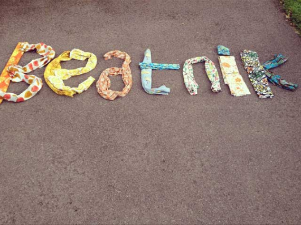 Vintage, Retro & New Clothing & Accessories
Beatnik Emporium is a unique independent shop near to the Southampton City Centre Cultural Quarter. We stock men's and woman's vintage clothing, ranging from the 1940s to the 1990s, including Americana, Mod, Military and Denim. Our accessories range form converse to Dr Martens, to Hats, handbags and costume jewellery. We also have a selection of vinyl records.
Primal Suds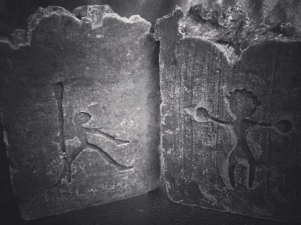 A Wash Revelution
Our ethos is to make natural soaps affordable and obtainable for people wanting to leave paraben and additive pumped soaps behind, we offer a natural alternative without unrealistic prices often attracted to this kind of product. Our aim is for people to be able to use Primal Suds everyday without having to go without other luxuries. Yes our soap is a luxury but it's not something we want people to just display in their bathrooms, for the visual benefits of their friends….we want people to actually use it….therefore we made it affordable.
Daff Illustrations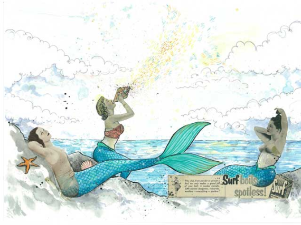 Practising Artist & Illustrator
Hello, I'm Caroline, also known as Daff!
I am a practicing artist, illustrator and workshop provider based in Southampton and I specialise in colourful and expressive watercolour and ink drawings of the natural world. I would describe my choice of media as a progression towards materials that teach me to embrace mistakes, drips and splashes in order to give my work a more fresh and dynamic quality.
Kate Woodley Smith Art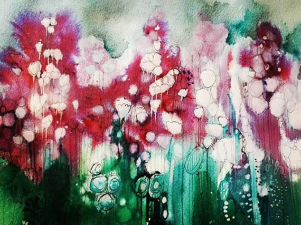 Acrylic ink specialist
Kate is an artist with over 30 years of painting experience. The specialises in acrylic ink and her work is a culmination of patterns and images inspired by the outside.
Sweet Pea Ceramics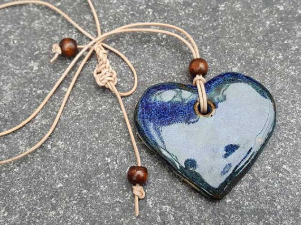 Sweet Pea Ceramics
I love to create and am happiest at the potters wheel fashioning clay. I am a self taught home potter, hand-crafting a mixture of ceramics in stoneware from pots and bowls to hangings and simple jewelry designs. I throw pots on the potters wheel and also do some slab work too. I am particularly interested in the mixture of glass within ceramics and continue to explore this fusion. It is really wonderful to see the combination of crackled reflective glass against the lustrous glazes. I also enjoy altering the thrown pots and bowls to create more unconventional shapes and designs. The ceramics I create can be either decorative or functional and are generally unique one off designs rather than sets.
Wendy Rawlings Sweet Pea ceramics
Black Gecko Jewellery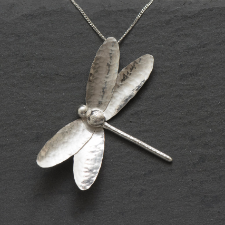 Black Gecko Jewellery
Hand-made, unique silver jewellery from Black Gecko Jewellery.
We are a small Southampton based business and all our jewellery is made using eco-silver, a more environmentally friendly alternative to standard sterling silver. Why not come and treat yourself to something beautiful?
Helen Harvey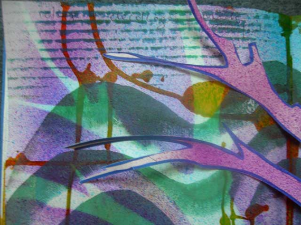 Nina's Little Gems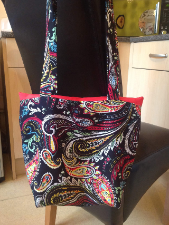 Nina's Little Gems is a funky, quirky stall offering a lovely mix of delights. Enjoy browsing through a range of handmade items all beautifully crafted with original designs. Be unique and pick up something fabulous that'll make you stand out from the crowd. Expect an ecclectic range of wonderful creations for all the family.