The Barefoot Bandit 8:45 / Hempilics 10:00
The Hempolics
with
The Barefoot Bandit
,
Soul 45 DJs
Sat 17th Mar
Doors:

8:00 pm

/
Show:

8:00pm
(Showtimes Approx)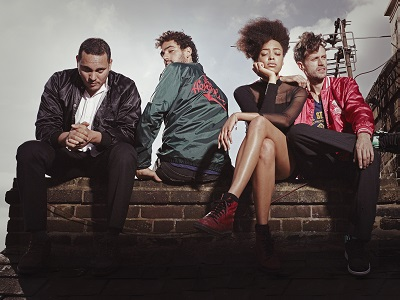 Playlisted - Steve Lamacq, Lauren Laverne & Liz Kershaw BBC6
£12 Adv / £9 NUS / £15 Door
​They smashed the gig at The Brook back in December and now, The Hempolics return, with their fun-loving, pop-infused, bass heavy reggae dancehall style music to carry on the massive storm they're been causing in the music world! With Radio 6, Massive Attack, DJ Vadnim, Faithless frontman Maxi Jazz and Paolo Nutini all raving about this irrepressible gang and ever growing sensation, this gig will be a highlight of the year! 'Me Love To Sing'
The Hempolics
​"And through the haze there shone a white light, and from that light played sweet sweet music... and to that music... We got high. Much love to the Hemps" - Paolo Nutini
"The Hempolics are the best band in the UK – but nobody knows it yet..." - Maxi Jazz (Faithless)
"Real vintage lo fi reggae inspired soul music for the 21st century city scape people" - DJ Vadim
"Great summer vibes. Puts a smile on my face. And amazing live too!" - Eliza Doolittle
"The best thing I've heard in ages" - La Roux
"Best new reggae band on the planet" - Chris Hawkins, BBC6
"You know a band that you instantly want to hear live. This. Right here." - freshonthenet.co.uk
Hempolics are out to put those organic rootsy vibes back into music; with their fat radio-friendly hooks, bumping soundsystem bass and a wanderlusty, ineffably real sound all of their own…
Over years of recording top international talent The Hempolics enigmatic leader, Grippa Laybourne, has been carefully honing his own masterpiece and selecting a gang armed and dangerous enough to execute it. The Hempolics caused an instant stir with their single Serious, on the Reggae Roast label, which hit number one in the 2010 UK reggae charts and was playlisted on Massive Attack's BBC takeover. Their latest releases have maintained success with a sync to the worldwide trailer for new Coen Brothers and George Clooney film 'Hail, Caesar!' and latest single Me Love To Sing has been playlisted by BBC6 Music with support from Steve Lamacq, Lauren Laverne, Rodigan & Don Letts. Combined with tight as a tick live performances – honed at their own underground club night in London – they are becoming the worst kept secret on the UK circuit today.
With their amazingly eclectic forthcoming album sounding like the i-pod of the attention-deficit generation and swelled by guest appearances from various international talents such as Maxi Jazz and Paulo Nutini - to name a few - The Hempolics have a storm brewing that promises to tear up the UK music scene. The album entitled 'Kiss, Cuddle & Torture Vol. 1' has been recorded in back to basics fashion throughout the bedrooms and home studios of the band producing an infectious mash-up of Reggae, Electro, Hip-Hop, Dancehall, Rock and Pop. Although the weather out might be dull London-side it's strictly sunshine vibes, resplendent with huge hooks and festival-friendly choruses. These are tunes that people will be bopping to across festivals, clubs and car journeys for years to come.
As well as pedigree recordings and live shows The Hempolics are producing gritty videos with a striking realness to accompany their tunes, in contrast to the polished pretension of the music establishment. They are the brainchild of veteran sound engineer and record producer Grippa Laybourne. Core vocalists, the empyreal Nubiya and devilishly dashing Dan Collier, combine together impeccably, with Dan's brother Harry sometimes stepping in with his own smooth tones. The rest of the band comprises of deft bassist Lorenzo, Leon King who ranks up there with the finest Reggae/Dub guitarists around and the exceptional Craig Boorman on drums.
Take your eye off the Hempolics at your peril. Ital business!
The Barefoot Bandit
The Barefoot Bandit are a highly energetic UK reggae/dub band based in Devon. Their sound mixes catchy melodies and exciting rhythms with a combination of modern roots reggae and deep, dark dub. Building a strong and loyal fan base over the last couple of years, the ensemble is set for big plans in 2017. TBB have played countless shows up and down the country including numerous festivals such as headline performances on small stages at Glastonbury Festival and Love Summer. The 4 piece have also made appearances multiple at BoomTown Fair, One Love Festival, Glass Butter Beach and KAYA Festival to name a few. The Band are rapidly developing a deserved reputation for their dynamic live show, guaranteeing a dance floor full of satisfied skankers.
After a very busy festival season of 2017 and a spring tour of Ireland, the band released their second EP, 'Hard Life.' Over the last 2 years The Bandit has had the pleasure of playing alongside and supporting renowned artists such as Dreadzone, Less Than Jake, Gentleman's Dub Club, Horace Panter & Lynval Golding (The Specials), Bad Manners, Backbeat Soundsystem, Jaguar Skills, Shanty and more.
"New and fresh Brit Reggae" David Rodigan - BBC Radio 1xtra
"I love these guys!" Dennis Bovell - SOHO Radio/Matumbi
"Up there with the best Reggae/dub bands in the area. I'm a big fan of The Barefoot Bandit. Definitely one of our finest exports in terms of their success. Recognised by the most important people in their genre of music" James Santer – BBC Introducing
"Catching them for the first time last year when they played with Dreadzone again, I immediately became a fan. Not a song passed when the dance floor wasn't packed. I could not highly recommend them enough for the energy and enthusiasm" Molly Povey - Music Muso
"Traditional reggae and dub combined with some slick guitar playing and seriously catchy vocal hooks. The Barefoot Bandit are well worth checking out." Adam Rowden – And Antarctica
Soul 45 DJs
"There's nothing like the depth, detail and sonic impact of a good vinyl record" say the SOUL 45 DJs (Mark James & Neil Walters), and they should know, they have been championing the 45RPM/ 7" vinyl format for the last 4 years in Southampton and at their SOUL 45 club nights. Everything from classic Motown sounds to raw Soul, heavy Funk, Disco, Boogie and B-Boy Breaks, Roots Reggae, modern day releases and some golden Hip Hop thrown in for good measure – and keeping with the perspective of the old-school, few things are as fabled as the practice of collecting and spinning 45s. Smaller than a 12-inch record, but larger than a compact disc, 7-inches might be outdated technology but pack a lot of punch with a rich warm sound.

It's not about dj technique, it's about great taste and their growing reputation for dance parties has brought them sets alongside local and international acts alike, including Trojan Sound System, Eddie Piller, Public Service Broadcasting, Craig Charles, Don Letts, Hannah William & The Tastemakers, Charley Macaulay, Freddie & The Freeloaders, Black Cat Boppers, Mayfield, DJ Format, Mr Thing, New Street Adventure and the legendary Afrika Bambaataa among others.

Soul 45 dj sets are a refreshing hot alternative to the Top 40, new dance-trends and other cookie-cutter nights out and most defiantly a unique music experience you can't find anywhere else on the southcoast.