Stage Times 7:55 // 20:45 // 21:45
Josh Smith
with
Ariel Posen
,
Backwater Roll
Sun 11th Feb
Doors:

7:30 pm

/
Show:

7:30pm
(Showtimes Approx)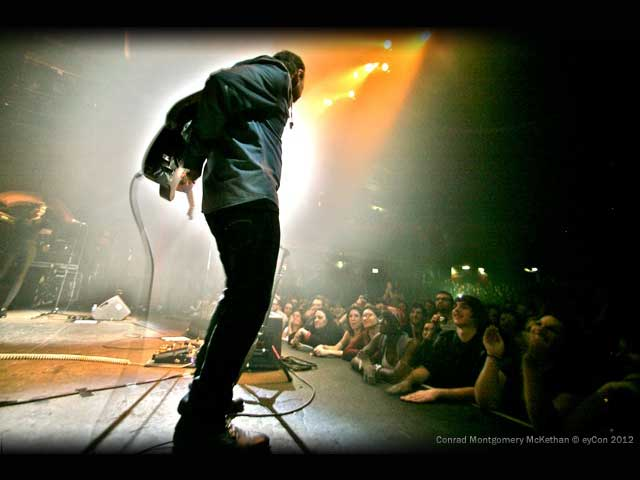 Endorsed by Joe Bonamassa!
£13 Adv / £15 Door
​A first for The Brook, join us as we welcome LA based musician Josh Smith on to our stage with his Blues guitar! Josh has been playing since he was 6 and by the time he was 14 was sitting in with such greats as Jimmy Thackery, Tinsley Ellis, Kenny Neal, Lucky Peterson, Matt "Guitar" Murphy and had also released his first CD, Born Under a Blue Sign! Pretty impressive stuff! A really great night for blues lovers.
Josh Smith
"Josh is one of my favorite musicians on the planet. His musical depth and guitar playing transcend the boundaries of the blues genre into a genre of his own. I am proud to always share a stage with him and even prouder to call him my friend. ". Joe Bonamassa
Josh Smith Was Born October 7, 1979 In Middletown, Connecticut. Before He Was 1, His Family Relocated To Florida, Eventually Settling In Pembroke Pines, A Suburb Of Fort Lauderdale. At Age 3, He Received His First Guitar And At 6, He Started Taking Guitar Lessons.
Josh Was Exposed To The Blues At An Early Age. He Listened To A Variety Of Artists, Such As Muddy Waters, B.B. King, Albert King And T-Bone Walker. He Also Started Going To Concerts, Including The Allman Brothers, Rolling Stones And Bruce Springsteen.
By 12, Josh Was Playing At Established Professional Blues Jams In South Florida, Such As Musicians Exchange Café In Fort Lauderdale And Club M In Hollywood, FL.
When Josh Was 13, The Rhino Cats, House Band At Club M, Asked Him To Be The Lead Guitarist. Musicians Exchange Owner Don Cohen Was So Taken Aback By The Talent Of This Young Musician That He Offered To Help Manage And Develop Josh's Career.
The Café Was Renowned For Bringing In The Best National Touring Blues Bands, And Josh Was Quick To Learn How To Approach These Blues Greats, Many Of Whom Would Invite Josh To Sit In With Them, Thinking It May Be A "Novelty" To Have A 14-Year-Old Kid Playing The Blues. The Novelty Quickly Wore Off And Was Replaced By Musicians Stopping, Watching And Listening As This "Kid" Wailed Out Blues Licks Better Than Many Of The Touring Guitarists On The Circuit. Josh Began Sitting In With Such Greats As Jimmy Thackery, Tinsley Ellis, Kenny Neal, Lucky Peterson, Matt "Guitar" Murphy, Johnny "Clyde" Copeland, Double Trouble, Joanna Connor And Kim Simmonds, Among Others. Jimmy Thackery Said Of The 14-Year-Old, "Josh Is Three Heartbreaks Away From Being A True Blues Guitar Genius."At 14, Josh Released His First CD, Born Under A Blue Sign, And At 15, He Released His Second CD, Woodsheddin.
While Performing All Over South Florida, Josh Smith And The Rhino Cats Quickly Became One Of The Most In-Demand Blues Bands In The Area. In 1994, While Josh Was Only 15, They Received The Florida Jammy Award For Best Blues Band And Were Selected As XS Readers Choice Winners In 1995 For Best Blues Band. In 1996, Then A Senior In High School, Josh Was Put On The Cover Of The National Magazine High School Senior, Which Hailed Him As An "Up And Coming Guitar Legend." That Same Year, Washburn Guitars Int'l Recognized Josh's Talent And Offered Him An Endorsement. They Flew Josh To Chicago And Guitar Luthier Grover Jackson Built Him A Custom Guitar.
Although Josh Was An Honor Student, After Graduation From High School In June 1997, Josh Followed His Heart And Began Pursuing What He Was Best At. His First National Tour Ensued With His Newly Formed Power Trio, Josh Smith And The Frost. Josh Was Now The Band Leader And Vocalist, So He Not Only Had To Continue Developing His Guitar Chops, But Had To Concentrate On His Vocal Prowess. In September 1997, Josh Enlisted World-Renowned Producer Jim Gaines, Whose Credits Include Santana, Stevie Ray Vaughn, Luther Allison, Steve Miller And Jimmy Thackery, To Produce His Third CD, Too Damn Cold.
By 1998, Josh Had Completed Four National Tours With His Band. In January 1998, Billboard Magazine Took Note Of The Rising Young Talent In A Continental Drift Article. In February 1998, Josh Was Asked To Support B.B. King On A Number Of Theatre Dates. In March 1998, The TV Show Chicago Hope Purchased The Rights To The Tune "32 Degrees" From Too Damn Cold. An International CD Release, The Mentos Freshmaker Tour, Included The Title Cut, "Too Damn Cold," In The Spring Of 1998.
Josh Toured Nationally All Of 1999 And In October Of That Year, He Entered The Recording Studio Again With Jim Gaines And Produced Woman, His Fourth CD. This CD Was Released And Well Received In The Spring Of 2000. Josh Continued To Tour The East Coast From New York To Florida Through 2001 With His Band. In June 2002, He Married And He And His Wife Decided To Move To Los Angeles. Josh Was Ready For Something New And Wanted To Be Around A Variety Of Musicians. He Also Began Being A Sideman.
Within A Year Of Moving To L.A., He Was Retained By Virgin Recording Artist Ricky Fante. He Played Nationally And Internationally With Ricky For The Next Two Years.
In May 2006, Josh Recorded His Fifth CD, Deep Roots. A More Traditional Blues CD, His Music Was Once Again Well Received By Blueswax And Blues Revue Magazine. Josh Continued To Play With A Variety Of Artists, Such As Actress Taryn Manning, Universal Hip-Hop Artist Benny Cassette And Tara Ellis, To Name A Few. In January 2007, Josh Was Hired By 2006 American Idol Winner Taylor Hicks To Be His Lead Guitarist. They Completed Two National Tours From February-September 2007 With Monthly Dates And Charity Events Until June 2008 When Taylor Started Grease! On Broadway. In July 2008, Josh Was Hired By Raphael Saadiq. Since That Time, Josh Has Played Such High Profile Gigs With Raphael As Backing Mick Jagger At The Grammy Awards In 2011 And The Kennedy Center Honors In December 2011. Josh Continues To Tour Nationally And Internationally With Raphael.
Josh Released His 6th Studio CD, "Inception," In 2009. This Is An All-Instrumental CD With A Variety Of Genres That Was Once Again Well Received By The Public And Critics Alike.
In 2010, Josh Was Signed To Crosscut Records, A Label Based Out Of Germany. Crosscut Re-Released Josh's CD, "Deep Roots," As "I'm Gonna Be Ready." In October 2012, Josh's CD, "Don't Give Up On Me," Was Released In Germany.
Josh Continues To Live In The Los Angeles Area.
Ariel Posen
Ariel Posen is an internationally acclaimed guitarist born and raised in Winnipeg, Canada. Other then playing with many bands all over the continent, producing records, composing music and recording on sessions, Ariel has spent the last few years touring around the world and recording with JUNO award winning, The Bros. Landreth. Some highlights include features from the biggest music publications around the world such as Premier Guitar, Rolling Stone, VH1, Relix, BBC, Paste and attention from artists such as Bonnie Raitt, Chris Stapleton, Jimmie Vaughan, John Oates and more.
Backwater Roll
BLUES MAGAZINES - Backwater Roll have been in the UK's Two Biggest Blues Magazines, Blues in Britain and Blues Matters many times including The Legendary German online Magazine ROCKTIMES.DE BLUES which showcased a review of one of the gigs from their Tour throughout Holland at the Famous Bluesmoose Cafe, Backwater Roll have had lots of reviews of some of the biggest festivals and blues Clubs of the British Blues Scene, They continue to grow and play more and more iconic venues and festivals.
POLLS – They reached number 5 in the IBBA's most played album on the blues radio shows in the first month of the release of the their Highly acclaimed Live Album, Backwater Roll - Live at The Platform and secured an ongoing position of number 25 over a 3 month period.
NEW & CURRENT CD's – coming soon- The 2nd Live Album featuring special guest Jon Amor as a bonus album for blues fans everywhere! and their first all original Studio Album expected early 2018
RADIO/TV AIRPLAY – BBC Radio and all 50 + of the IBBA RADIO SHOWS, i TUNES POD CAST INTERVIEW AND FOOTAGE FROM BLUES MOOSE CAFE IN HOLLAND
PRESTIGIOUS GIGS & FESTIVALS – Skegness, Victorious, headlining The Borough blues festival in Wales, Colne Blues Festival, Cafe De Klomp Summer Festival in Holland, with too many more to list! They have shared the stage and opened individually and collectively for many big names such as, ERIC CLAPTON, ERIC GALES, THE HOAX, JON AMOR, AYNSLEY LISTER, DEBORAH BONHAM, MICHAEL KATON, POPACHUBBY, MATT SCHOFIELD, OLI BROWN, VIRGIL & THE ACCELERATORS, IAN SIEGAL,THE NIMMO BROTHERS, JW JONES, PAUL LAMB & THE KINGSNAKES, THE BILLY WALTON BAND and The incredible ex FABULOUS THUNDERBIRDS guitarist KIRK FLETCHER.