John Coghlan's Quo
Sat 24th Feb
Doors:

8:00 pm

/
Show:

8:00pm
(Showtimes Approx)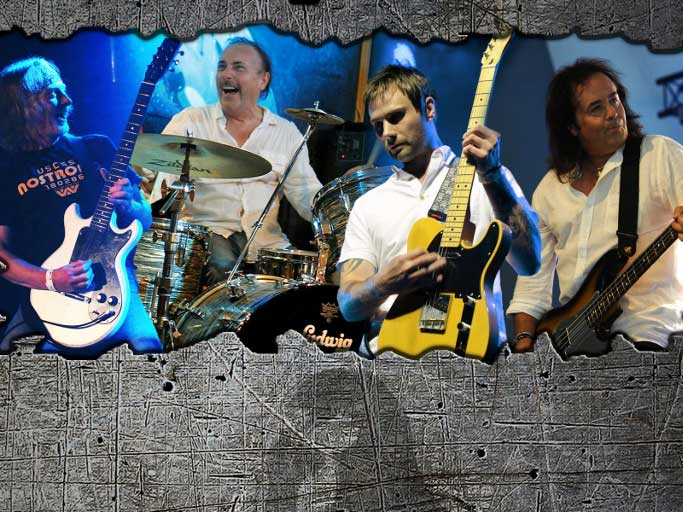 Original Status Quo Drummer's Status Quo
£13 Adv / £16 Door
​Status Quo drummer John Coghlan brings his band to The Brook with the intention of 'taking you on a joyous journey of his golden past in one the most celebrated and much loved rock bands the UK has ever produced. A night of beer-raising, feel good factor and Status Quo classics'. (Mark Taylor, MetalTalk.net)
John Coghlan's Quo
Since leaving Quo John has worked with many noted and diverse musicians, mostly in his own Diesel Band. Other notable appearances include Partners In Crime and the short-lived 'Rockers' featuring Phil Lynott, Roy Wood and Chas Hodges. Other collaborations have included Noel Redding (ex-Jimi Hendrix) and Eric Bell (ex-Thin Lizzy).
During the late nineties John Coghlan's Quo was formed and through various line-ups has enjoyed regular gigs all over the UK and Europe. The current band since 2010 (previously performing as The John Coghlan Band) consists of John on Drums with Baz Barry, Mick Hughes and Pete Knight from NWOBHM Boogie Band 'Predatür' completing the line-up.
It should be clear this is most definitely not a "tribute" act, the prime aim being to recreate an authentic "70′s Quo Sound" in keeping with John's time with Quo.
John explains, "Since leaving in 1981 I've played with loads of guitarists and they'd say let's stick a couple of Quo songs in and they would come unstuck. They think it is so easy and they just bluff their way through and really do a poor version.
I got a call from Pete Barton who sings with The Animals, but is also a booking agent. He said you had loads of hit records; why not put a band together? I now have these guys from Predatür. Great players and they recreate the sound without this lookalike crap. I don't want to discuss tribute bands because it is not our bag. Baz, Mick and Pete – we get on great and we have a good following for John Coghlan's Quo. I still play the way I played with Quo, I haven't changed anything. We even play down my little local Pub; we take all the furniture out! We did it once for fun and now we have done it twice a year for twenty-six years. We still attack the songs the same as at big gigs and Quo fans love it because that's the way it should be played."

Aside from the expected Quo standards the Set List will often include songs that have either not been performed by Quo for many years or even on occasion, not at all. If you enjoy a combination of long-lost classic album tracks with a mixture of Quo's Greatest Hits and delivered with a 70′s vibe, then a John Coghlan's Quo gig is simply a must