Postponed to Late October - Date tbc
Brooke Sharkey - Postponed to Late October - date tbc
Sun 15th Apr
Doors:

7:30 pm

/
Show:

7:30pm
(Showtimes Approx)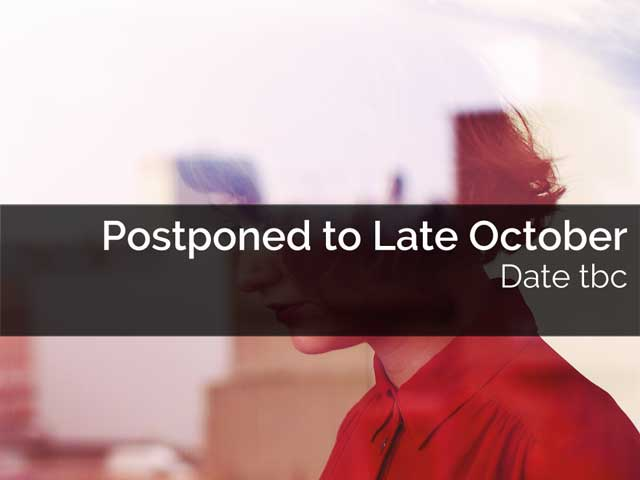 Incredible & Soul Shifting.
£10 Adv / £13 Door
Brooke Sharkey
London based singer-songwriter Brooke Sharkey was raised between France and England, since her return she has release 2 Eps and 1 full length album (one dress, 2012) and has just released her second album.
Wandering Heart independently in the UK as is due to be released in Europe and the rest of the world on V2 records on March 17th 2017. Brooke has just been featured in the FUTURE 50 article in The Guardian in November 2016 article about independent artists. She produces her own music and collaborates with band members based in and around East London.
Her unique sound can be described as: "An introspective sound adorned with emotional vocals and sliding string sections that create a tense air of melancholy that few others can master so simply and so elegantly, Brooke Sharkey oozes a creativity that radiates emotion. She is a woman who bleeds artistry." (Fresh beats)
With a vocal style that switches effortlessly between lithely melodic and fiery, set against a deeply atmospheric musical backdrop, comparisons with the likes of Kate Bush, Ane Brun and Cat Power are inevitable.
Wandering Heart is the title track of her new album. This album is a selection of songs written about the last 3 years of her life traveling, playing shows, busking and tells stories of people, places and delves into alternative ways of loving and its struggles. Her tracks͚ Your tomorrow and Bottletop Blues have been played on BBC radio 2,
Radio 6, BBC Scotland and have captured the attention of The guardian, Loud and quiet magazine, Acoustic magazine and Maverick magazine. She has supported artists such as Ben Watt and recently opened for well known french artist Tété at Cafe de la Dance in Paris with many more support shows due in Europe in 2017.
Jerry Harmon
"The Smoky Mountain Gypsy"

After years of success as a performer in America, sharing the bill with the likes of America's most celebrated musicians: Dolly Parton, Ricky Skaggs, Tony Rice, Marty Stuart, Earl Scruggs, and others, Jerry has quickly gained recognition as an amazing performer in the UK and mainland Europe performing at major events there. He has appeared at such events as North Carolina's renowned Merle-Fest, The Bath International Music Festival, The Edinburgh International Festival,and The Winnipeg Folk Festival.

Jerry Harmon was born into a rich family tradition of music. His home, deep in the foothills of the Blue Ridge / Appalachian mountains, reverberated daily to the sound of music in many different forms.

Harmon's musical career was launched at an early age, strumming a banjo fashioned from wood and groundhog hide by his uncle Gene. Radio programmes featuring Hank Williams Sr, Flatt & Scruggs and Ray Price also proved a lasting influence.

At the age of 12, with his Sears & Roebuck Truetone guitar in hand and an earnest determination, Harmon tackled the first of years of self given music lessons from a book by the famed North Carolina guitarist Arthur Smith. It is this rich family tradition, these years of practice, and the multi-dimensional experience that gives us Jerry Harmon, the Smoky Mountain Gypsy.

Jerry shares his Smoky Mountain home with his wife, Maria, and their two Schnauzers--the infamous, "Shadow" and his new friend, "Rosie." Friends come often to the Harmon household, pulling up a chair, helping themselves to a cup a coffee or a cold bottle of water from the refrigerator. After you've been in the Harmon house more than five minutes, you realize you are no longer a guest--you are at home! Jerry gathers people around him like the mountains gather the clouds,-- at home together... as much as the man and his music and the traditions of his storytelling.

Jerry's new studio album 'Walk Softly', which was selected by Country Magazine as one of the highlights of 2017, sees him team up with acclaimed producer Pat Holt (Dr. Hook, Keith Bryant, Darlene Austin) for a record that embraces both
his songwriting heritage and the contemporary country scene. Grandmas Are Sexy Too is a playful ode to women of Jerry's generation.