Mused
Fri 16th Mar
Doors:

8:00 pm

/
Show:

8:00pm
(Showtimes Approx)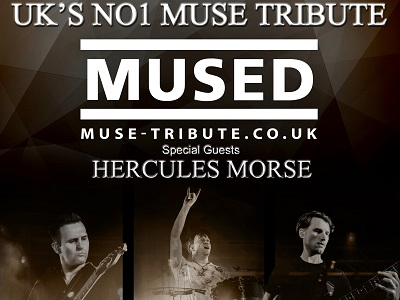 Alternative Rock, Space Rock, Progressive Rock
£10 Adv / £13 Door
​Alien invasion, ouija boards and supermassive black holes ~ few bands can rival Muse for eccentricity, excitement and, let's face it, downright weirdness. Now 'Mused', our brilliant tribute to them, have encapsulated all the thrill, shock and entertainment you'd want from seeing Muse live. This is set to be a roof raising gig!!
Mused
MUSED - UK's Number 1 MUSE Tribute Band
Mused are a UK based professional tribute act who excel at providing an authentic Muse concert experience. Muse themselves now rarely perform at anything smaller than arena capacity, and Mused offer the opportunity to get up close to the action!
We accurately recreate all of the favourite Muse tracks, and like Muse, rather than playing them exactly like the studio recordings, we perform all the extra bits including the "jam" parts in-between songs just as Muse do when performing live, thus creating a true Muse live experience! From the moment the show opens to the encore you will believe you are listening to, and watching Muse themselves!
The band's set list compiles songs from across all Muse's studio albums, from
Showbiz to Drones. The current set list currently consists of:
· Bliss
· Can't Take My Eyes Off You
· Citizen Erased
· Citizen Erased
· Dead Inside
· Feeling Good
· Hyper Music
· Hysteria
· Knights of Cydonia
· Madness
· Mercy
· Muscle Museum
· New Born
· Panic Station
· Plug in Baby
· Psycho
· Reapers
· Resistance
· Starlight
· Stockholm Syndrome
· Supermassive Black Hole
· Supremacy
· The Handler
· The Small Print
· Time Is Running Out
· Undisclosed Desires
· Unintended
· Uno
· Uprising
You can rest assured your Muse experience is safe in our hands!
More information, tracks & video's can be found at http://www.Muse-Tribute.co.uk
Hercules Morse
"It's British, it's bitchin' and it's brilliant!" - The Mixed Tape
"South-coast four-piece Hercules Morse worship at the twin altars of the riff and the groove, and such devotion has paid off handsomely." - Rock Sound Magazine
"Truly listenable and honest modern rock" - TBFM magazine
"Each of the five tracks on their new EP, Equine Size Comparison, is an absolute monster." - TeamRock
"Great riffs and a melody that most would kill for. Quite Superb." - Maximum Volume
"A killer sense of melody that makes for hard rocking, atmospheric, and heavy listen but one that's incredibly accessible and boasts more hooks than a pirate convention." - Cultured Vultures
"Hercules Morse are the kind of band who can transport anyone across the world into an open-top Mustang cruising down an empty Nevada highway. These are bruising leather-jacketed rockers and cooler than Josh Homme flying the Millennium Falcon with Hunter S. Thompson as the co-pilot. Plug them in, sink low in that armchair and watch the walls melt baby." - Metal Temple
After forming in late 2014, Hercules Morse released their debut EP in December 2015 and received a host of superlative reviews; notably KKKK (4 out of 5) in Kerrang Magazine and 8/10 in Rock Sound Magazine. Their consistently excellent level of song-writing was demonstrated by the fact that all 6 tracks on the EP received airplay from Kerrang Radio and the BBC (6 music and BBC introducing).
The band combine the groove-based riffs of stoner / desert rock, the energy and audacity of classic British rock and the melodic focus of contemporary alternative rock to create something altogether distinct. Mighty riffs are carved over driving bass grooves with lavish guitar licks and catchy vocal lines, creating ferocious sonic beasts immersed in melody. Reviewers frequently laud them as a British hybrid of The Foo Fighters and Queens of the Stone Age.
They have been fortunate enough to share stages with Turbowolf, Band of Skulls, Brant Bjork (former Kyuss drummer), Tiger Cub, Orange Goblin and Dinosaur Pile Up. They have also appeared on bills with Calvin Harris, The Go Team, Tynchy Stryder and The Streets.
In 2016 the band supported Radio One DJ Huw Stephens, Post-hardcore behemoths Black Peaks and former Iron Maiden singer Blaze Bayley as well as performing on the main stages of three festivals: Common People (with Duran Duran), Standon Calling (with Suede) and Weyfest (with The Darkness).
In Hercules Morse's brief time so far they have raised hell (which to them, is Southampton) with two critically acclaimed EPs, countless blistering live shows and recording a live session for BBC Introducing.
Building on the success of their first two releases, the band look set to continue their march towards becoming a household name in the world of rock 'n' roll.
"Stoney, Deserty rock 'n' roll with glistening licks, thumping rhythms and a chorus that throws me personally right back to a time of sitting out in skate parks listening to grunge and punk and drinking Mad Dog 20/20 in the sunshine. Good times!" Alex Baker, Kerrang Radio