Sadly show cancelled due to lack of pre-sales
Sally Barker & Vicki Genfan
Mon 13th Nov 2017
Doors:

8:00 pm

/
Show:

8:00pm
(Showtimes Approx)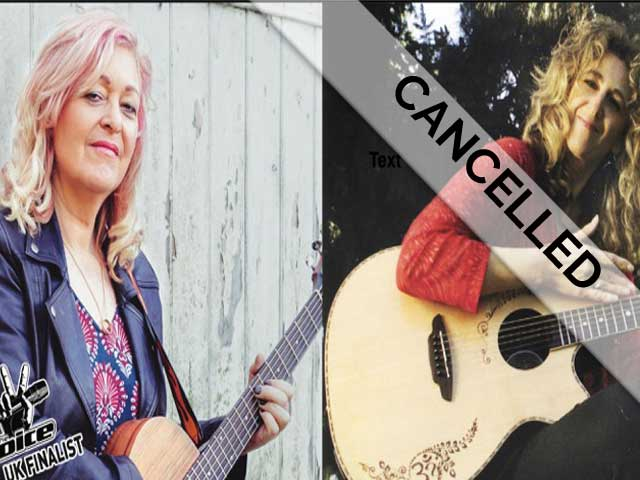 Two female Singer songwriters from both sides of the Atlantic. Two for ones are brilliant aren't they!
Sally Barker
"For me, it was just full of emotion. It was just so beautiful that I couldn't help myself. You swept me off my feet."
— Tom Jones
Sally Barker has been around for decades but her voice just gets better with age. Whether she is singing to seven million on the final of TV's 'The Voice' or to 7 people in a local folk club Sally is the consummate professional. She has the ability to lift the words off the page as if you were hearing them for the first time.
Sally began writing songs and performing at the age of 10, influenced by the likes of John Martyn, Janis Ian, Steelye Span, Bonnie Raitt and Pentangle. By her late teens Sally was performing folk and blues in pubs and folk clubs in the Midlands with bass player Chris Watson. Later the duo went on to support Steeleye Span, Gordon Giltrap and Roy Harper.
Chris moved to London and Sally entered and won the 1986 Kendal Songsearch Competition with 'Hunting the Buffalo'. Newly solo, Sally got to be the support to acts such as Richard Thompson, Taj Mahal, Richard Digance and Fairport Convention.
This album was brought to life by the friendship between singer-songwriters Sally Barker (UK) (www.sallybarker.co.uk), and Vicki Genfan (USA) (www.vickigenfan.com) that spans the mighty Atlantic Ocean. 15 years into their friendship, these troubadours and roving minstrels have prepared a special collection of newly penned original songs. The project germinated over five days in the sweltering heat of a North Carolina Summer in a cabin in the shadow of Pilot Mountain at the foot of the Appalachians, was tended to during Autumn transatlantic song-writing sessions via Skype and successfully bloomed in a New Jersey in January as the snow drifts settled, knee deep, at the recording studio door. The resultant record 'In The Shadow of a Small Mountain' is a product of the modern age yet tells stories from both sides of the Atlantic with flavours of the American south infusing tales of a very British sort. Both sing and play acoustic guitar while Vicki also plays electric guitars, manditar, banjo-tar, bass & percussion. The only guest appearances are John Mettam playing drums on 'SOMETHING BLUE', Finn Magill (low whistle and vocals) and (from Malawi, Africa) Peter Mawanga (nsansi & chisekese & vocals) on the song 'MALAYA' (recorded by a mobile recording studio in a car park at Swannanoa Gathering at midnight!).
Sally, founder member of the Poozies, has released 7 solo albums and toured consistently supporting artists such as Bob Dylan and Robert Plant until the death of her husband in 2003 after which she performed sporadically. She re-emerged on prime time TV show 'The Voice UK 2014' on which she was Sir Tom Jones' finalist. Rejecting the offer of a deal from Island Records (quick cash-in covers album) she has continued to plough her own furrow with the release of her latest album GHOST GIRL in February 2017.
Vicki holds the title of 2008 'Guitar Superstar' having won the Guitar Player Magazine's annual competition in front of celebrity judges Steve Vai, Joe Satriani and Elliot Easton. She has released 4 solo albums, 5 instructional DVDs and tours throughout the US and internationally where she has supported artists such as David Crosby, David Wilcox and Larry Carlton.
Vicki Genfan
Every now and then an artist comes along whose music reaches out and touches the soul of all who hear them…virtuoso guitarist, singer and composer Vicki Genfan is among those artists… Drawing from folk, jazz, pop, soul and world music, Vicki is redefining 'singer/songwriter culture.' With a mastery of the acoustic guitar that borders on pure alchemy, audiences are mesmerized by the waves of sound Vicki creates with just two hands and her voice. Using 29 alternate tunings and the percussive technique she calls 'slap-tap', you'll find the addition of her pure, expressive vocals that dig deep and stir the heart to be the perfect accompaniment on many of her songs. Vicki writes and beautifully sings her own brand of music and lyrics while putting her unmistakable imprint on familiar tunes like the Beatles' Norweigian Wood. An evening with Vicki is far more than a concert; stories, warmth and humor come gift wrapped in an unforgettable evening of music that leaves the audience always wanting more.
Vicki has been recognized among the world's greatest guitarists and musicians at festivals such as The International Montreal Jazz Festival, Germany's Open Strings Guitar Festival, Italy's Soave Guitar Festival, as well as at venues and Performing Arts Centers across the US and abroad. In 2005 she was one of the featured artists on 'La Guitara', the first compilation CD featuring female guitarists from around the globe, released by Vanguard Records. With several additional ground-breaking recordings behind her, recent acquisitions of the 6 string banjo, 12 string and baritone guitars, high demand at clinics and music camps and an ongoing European presence, Vicki continues to reach beyond musical borders and into new territory. Find out more about Vicki.
"I understand completely why the audience applauds and whistles so wildly…this is fiery, living music."
– IndieMusic.com
"I have to open my eyes to make sure that only one guitar is playing and that Vicki Genfan – so the name of this fascinating woman – only owns two hands."
– Spurren Magazine, Switzerland
"Vicki has brewed her own style that has no name…and created a new kind of singer-songwriter culture."
– Frankfurter Allgemeine
"Genfan is carving a niche in the acoustic music world which few can fill."
– www.minor7th.com