Aynsley Lister
Wed 13th Dec 2017
Doors:

8:00 pm

/
Show:

8:00pm
(Showtimes Approx)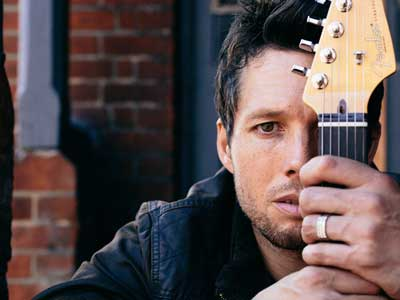 Eyes Wide Open Tour
£15 Adv / £18 Door
One of the most acclaimed UK blues musicians returns to our venue. Blues fans, get em early.
Aynsley Lister
"An absolute masterclass in art of guitar playing with immense touch, technique and tone." - Nigel Foster "Superb" - The Times
"His guitar playing is a fire hazard" - MOJO
"Aynsley is one of my favourite guitarists. He combines a natural bluesy feel with rock and even pop sensibilities; playing always for the song and with the perfect balance of melody and technical chops. - Neville Marten, Guitar Techniques"
Award-winning blues-rock aficionado Aynsley Lister con7nues his 'Eyes Wide Open Tour' following the release of his eighth studio album, released on October 7 2016 on Straight Talkin' Records.
Aynsley's previous opus, 2013's Home garnered the guitar ace Songwriter of the Year at the Bri0sh Blues Awards. Eyes Wide Open is a bold, confident and accessible slice of contemporary blues-rock that promises to bring Aynsley yet more accolades as well as introduce his genre-blending sound to a new audience, building on the 100,000 albums he's already sold worldwide.
Peter Green, Albert King and Eric Clapton were the musical giants influencing the young ears of Aynsley Lister while he was growing up. Building on this founda7on, Aynsley has craPed his own unique perspec7ve on contemporary blues since he first formed a band aged 13 and released his self-7tled debut in 1998 on Ruf Records. It's been a fantas7c journey so far that has seen Aynsley play with, amongst others, Buddy Guy, John Mayall and Lynyrd Skynyrd. He's won mul7ple awards including Guitarist of the Year at the 2015 Bri0sh Blues Awards and was nominated in the Guitarist and Male Vocal categories in the 2016 Bri7sh Blues Awards. Eyes Wide Open sees Aynsley confidently pursuing his own musical path.
Self-assured, inven7ve and richly- textured, he brings his 18 years of hard touring, 11 album releases (eight studio and three live) and all his experience as a musician to frui7on. Eyes Wide Open also displays Aynsley's exquisite taste that means he always plays for the song, bringing the blues to everyone.