Walter Trout
Mon 9 Oct
(Doors:

8:00 pm

)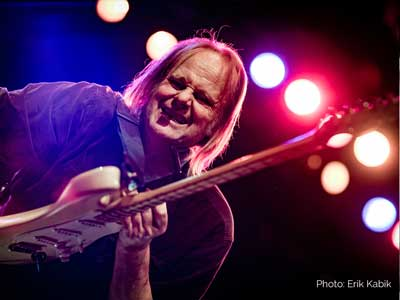 £25 Adv / £28 Door
Walter Trout
New York, NY — With bristling energy, unflagging virtuosity and lyrics that cut to the core of human hope and willpower, Walter Trout's new album, Battle Scars, chronicles his horrific battle with liver failure. But the 12-song set, which will be released worldwide by Mascot Label Group's Provogue Records on October 23 also captures the international guitar hero, on a new high — playing and singing at the peak of his abilities, infusing even his darkest numbers with creative joy that sweeps like a beacon. "I'm thrilled about this album, about my life and about my music," says Trout, who returned to the stage in June at the prestigious Lead Belly Festival in London's Royal Albert Hall. "I feel that I'm reborn as a songwriter, a singer, a guitarist and a human being. I have a new chance at being the best musician and the best man that I can be. And I'm incredibly happy and grateful."
Contrast that to early 2014, when Trout was lying in a hospital bed without the strength to move or speak, unable to recognize his own children, as he observed his body waste away. But on Memorial Day, May 26, 2014, Trout underwent liver transplant surgery and the slow process of healing began. "At first I wasn't strong enough to play a single note on the guitar, but as I regained my strength, the music came back to me. Now when I pick up the guitar, it is liberating, joyful, and limitless. I feel like I'm 17 again."
Initially, Trout hoped to capture his renewal and positivity in the songs, "but," says Trout, "they were coming out cliché and I wanted to write something deeper." After Marie, Trout's wife and manager, suggested that he revisit the difficult experiences of his illness, the songs began pouring out. The first was "Omaha," which resonates with smashing chords and vibrating low strings: a solo packed with pealing midnight howls. The lyrics tell a tale of a man haunted by death. "I was in UCLA for a month, and later at the Nebraska Medical Center for five months in the liver ward — first waiting for the transplant, and then recovering from the surgery," Trout recounts. "There were days when somebody in the ward died while waiting. I'd hear families out in the hall crying and doctors trying to comfort them. And I knew there was a good chance that I'd be the next one to go. For 'Omaha.' I wanted to capture how that felt and sounded."
The opening song "Almost Gone" is equally potent. As the fingerpicked introduction intones, Trout lays his cards on the table: "Now I get the feeling/Something's going wrong/Can't help but feelin'/I won't last too long." The fatalism is balanced by the music — from the exquisite roar of Trout's harmonica that follows those words to the ebullient, soaring six-string that gives the tune a tsunami of uplift. "Almost Gone" captures the strength I got from my wife, urging me to go on fighting when I was in pain, and on the verge of death," says Trout. "I looked up into her eyes, and she gave me the power to carry on. That experience is reflected in my playing on the song." Another key track is "Gonna Live Again," which gets its organic grounding from Trout's acoustic guitar and the gentle quiver of emotion in his voice. "That's me asking God, 'Why me?' When so many people died waiting, why did I survive? I've been given a chance to try again — a chance to be a better husband, a better father, and a better man."
Battle Scars is Trout's 18th album released by the Netherlands-based Provogue label and his 42nd overall, counting his pre-solo-career recordings as a member of the historic groups: Canned Heat and John Mayall's Bluesbreakers. Trout fell headlong in love with the blues in 1965 when his brother brought the first album by the Paul Butterfield Blues Band into his family's New Jersey home, and Trout heard the twin-guitar magic of Michael Bloomfield and Elvin Bishop, combined with Butterfield's gut-deep harmonica-and-vocal performances. In his music-loving home, Walter was raised to the sounds of records by Ray Charles, Hank Williams, John Lee Hooker, B.B. King, John Coltrane, Bo Diddley and many other musical giants. Trout's practical schooling started in earnest when he arrived in Los Angeles in 1973 and got gigs backing Hooker, Big Mama Thornton, Finis Tasby, Pee Wee Crayton, Lowell Fulsom, Percy Mayfield and Joe Tex. In 1981 he joined the remaining original members of Canned Heat. But the real turning point was his five-year tenure with British blues giant Mayall. Trout became part of the Bluesbreakers' lineage of great guitarists along with Eric Clapton, Peter Green and Mick Taylor.
Trout founded his own band in 1989 and cut his debut album Life In the Jungle, rapidly becoming a star in Europe. His first U.S. release, 1998's critically heralded Walter Trout, also made him a fixture of the American blues-rock scene.
Over the decades Trout has accumulated numerous honors. He is a two-time winner of the "Overseas Artist of the Year" title at the British Blues Awards, and is a three-time Blues Music Awards nominee. Trout's six-string prowess earned the number six slot in BBC Radio 1's "Top 20 Guitarist" listener's poll, tying with Queen's Brian May.
Just prior to his illness, Provogue records was poised for a major "Year of the Trout" marketing campaign and worldwide tour celebrating his 25 years as a solo artist. The label released Trout's then newly recorded album, When the Blues Came Calling, and reissued his catalog on 180-gram vinyl. Additionally, Provogue published his autobiography penned with British music journalist, Henry Yates: Rescued From Reality: The Life and Times of Walter Trout. "Unfortunately, that tour didn't happen," Trout says. "Instead I had to cancel an entire year of touring. That's what the song on Battle Scars, 'My Ship Came In' is about: My ship came in and I missed it! I'd waited all my life for a record label to get behind me to that extent, and then that plan fell apart."
Trout is now moving triumphantly forward in his 50th year as a guitarist. He is in the midst of a global tour with his band: keyboardist Sammy Avila, drummer Michael Leasure, and new bassist Johnny Griparic, who joined in time to record Battle Scars in Los Angeles' Kingsize Soundlabs with Trout's longtime producer Eric Corne. "I don't take this lightly," Trout declares. "Marie says that all of the people who donated to our fundraiser for my medical expenses" — which generated more than $240,000 – "bought stock in me and my liver. When I play for them now, I have a responsibility to give back and offer the very best that I have."
Sari Schorr
"A Force of Nature", the debut album from one of today's most exciting blues-rock singers, was produced by the legendary Mike Vernon, whose credits include Fleetwood Mac, The Blues Breakers, Savoy Brown, Chicken Shack, Eric Clapton and Peter Green. In 2015, while in Memphis, Tennessee, to receive The Blues Foundation's Keeping the Blues Alive award, Vernon witnessed a performance by Schorr and was so knocked out that he came out of semi-retirement to produce her.
Already a consummate songwriter in her own right, with tracks on major labels, Sari wrote or co-wrote almost all the songs on the album. The album features the stunning blues guitarist Innes Sibun (formerly of Robert Plant's band), who is the driving force behind Sari's new band, The Engine Room. The album also features the incomparable Walter Trout, performing his great song, 'Work No More'.
Schorr gained prominence in the blues world through tours with blues legend Joe Louis Walker and renowned guitarist Popa Chubby, and was recently inducted into the New York Blues Hall of Fame. A marathon runner and animal rights activist, Schorr lives in Brooklyn with her husband and rescued pit bull triplets.