Till 1:00am!
Rufus Black Album Launch
with
The Kondoors
,
Backwater Roll
Fri 18th Aug
Doors:

8:00 pm

/
Show:

8:00pm
(Showtimes Approx)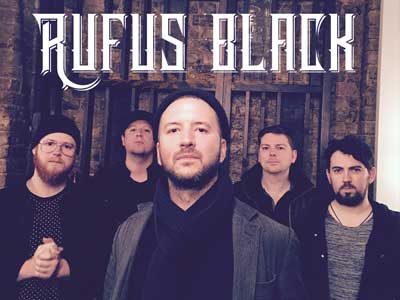 Blues, Funk, Soul & Rock!
£7 Adv / £9 Door
This band has played everywhere, from Ronnie Scott's to Bestival & Glastonbury. Come see them play their debut at another great music venue.
Rufus Black
Rufus Black are a raw cocktail of British Blues, Funk, Soul and Rock. Formed in Dorset in December 2015, the five professional musicians became friends over their love of of blues & soul and decided to create a band. After a few packed out gigs in the pubs of Dorset they realised that the sound they created was instantly desired and appreciated. The band consists of:
Gavin Conder - Vocals (Whitesnake, Manfred Mann)
Scott Mckeon - Guitar (Tom Jones, Lana Del Rey)
Ben Jones - Guitar (Mary J. Blige, The Voice Band)
Leighton Allen - Bass (Kelvin Jones,The Hoosiers)
Russell Parker - Drums (Robbie McIntosh, P.P. Arnold)
Drawing influences from: Muddy Waters, Led Zeppelin, Cream, Jimi Hendrix, Al Green, BB King, Stevie Ray Vaughan, Donny Hathaway, James Brown, Joe Cocker, Freddie King and everything in between!
In the beginning of 2016 they hired a village hall in the middle of deepest darkest Dorset and hit the record button. The results were raw and old school.
They loved this sound so much that they are now recording their debut album which will be available to buy exclusively at this album launch.
As professional musicians they have played some of UK's most established venues and festivals, including:
The O2 Arena, The Albert Hall, Shepherd's Bush Empire, Glastonbury Festival, Bestival, V Festival, T In The Park, Bluesfest, Ronnie Scott's, and many many more.
Catch them while you can!!
The Kondoors
Take two great voices – hers, warm, rich and soulful, his, heartfelt and bitter-sweet – mix together and stand well back. Welcome to the Kondoors … one knock-out sound.
Jess Greenfield and Gavin Conder became a couple well before they became a duo. They first met twelve years ago, but only stumbled on their unique musical chemistry much later on.
Both had already established themselves as must-see live performers by the time they met, supporting a roll call of big names, including Brian Adams, Imelda May, Rod Stewart, Rudimental, Professor Green, Take That and Sam Smith.
Both had also long been writing and recording their own material, drawing on a host of influences from Sam Cooke, Connor Reeves and Marvin Gaye (Gav) to Dusty Springfield and Tina Turner (Jess).
It was only when they decided to record Jess's song, Forgiveness, singing together for the first time, that they discovered the spine-tingling effect of their voices combined. Producer Steve Brown (Rumer and Laura M'vula) stepped in to take their raw, organic sound to the next level – and the breathtaking vocal personality of the Kondoors was born.
Where next? The duo are making real waves as both performers and songwriters. As well as Steve Brown, they have also worked with several other top talents, including Martin Brammer (James Morrison, the Lighthouse Family), Ben Langmaid (LaRoux), Pete Vetesse (Annie Lennox, Boyzone) and Pete Vale (Lemar, The Eagles).
The Kondoors certainly aced it with Andy Murray. They sang at his wedding in 2015…
Recently they have gained success on social media, racking up over 100k views in only 3 days of their UK garage/acoustic mashup video
and 40k views of their original song Forgiveness which was featured on The Ayala Show on Sky TV.
'World Class. Absolutely amazing' Soho Radio
'An impressive and creative partnership' Mark Forrest, BBC Introducing
'Wow, just amazing' Amanda Holden
'The Kondoors are a very talented duo who concentrate on writing and performing their own material, but are equally at home playing other musical styles and genres' John Illsey, founding member, Dire Straits (Playing here in November!)
Backwater Roll
Blues and other magazines,- We have been in Blues in Britain and Blues Matters, we actually have a review of our recent gig at the great British Rock & Blues Festival in Skegness in this month's edition of Blues in Britain
Polls – we reached number 5 in the IBBA's most played album on the blues radio shows in our first month of release
New CDs, – coming soon- live at the platform featuring special guest Jon Amor and our first studio all original album due out in the summer
Radio/TV airplay – BBC Radio Solent and all 50 + of the IBBA RADIO SHOWS
Prestigious gigs/festivals – Skegness, Victorious, headlining The Borough blues festival in Wales, We have shared the stage and opened individually and collectively for many big names such as, ERIC CLAPTON, THE HOAX, JON AMOR, AYNSLEY LISTER, DEBORAH BONHAM, MICHAEL KATON, POPACHUBBY, MATT SCHOFIELD, OLI BROWN, VIRGIL & THE ACCELERATORS, IAN SIEGAL,THE NIMMO BROTHERS, JW JONES & Guitarist KIRK FLETCHER. The live album " Backwater Roll – LIVE at the Platform" has had a hugeamount of radio play since the release in November 2014 including lots of airplay on BBC Radio Solent and the album being in the IBBA's Top 25 for 3 months running with a best spot of number 5 in its first month of release.