Hayseed Dixie
Sun 2nd Jul 2017
Doors:

7:30 pm

/
Show:

7:30pm
(Showtimes Approx)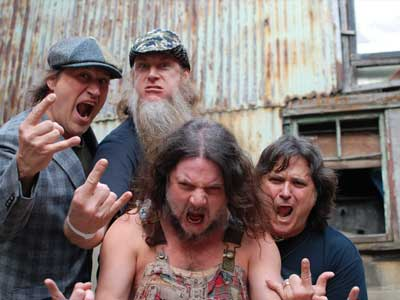 Welcome return of everyone's favourite rockgrass outfit
£18 Adv / £20 Door
They love playing here and we love having them. You know it's always a good one!
Hayseed Dixie
We are bored to tears by Standard Music Industry Biography Pages on band websites, but we also recognise and accept their usefulness, utility and necessity. So here is our version of such.
We really, really hate it when we go to a band's website and their "Bio" page just talks about nothing but their BRAND NEW ALBUM and tells you over and over where to GO to BUY their BRAND NEW ALBUM and doesn't really talk about anything else except their BRAND NEW ALBUM. We're not going to do that!
Hayseed Dixie started in the year 2000 and has been going for 17 years now, so we'll get to the BRAND NEW ALBUM in a minute. First, a bit of history . . .
Hayseed Dixie began one innocent summer day in 2000 when John Wheeler aka Barley Scotch and his pal, dobro and pedal steel player Mike Daly, drank roughly enough whiskey to float a battleship from the Florida Coast over to Portugal and back and decided to play around in John's East Nashville studio. Having spent the previous few years touring around with assorted country hat-acts, John had assembled a proper pile of recording equipment and also a heroic collection of Bourbon and Scotch. Thus when he and Mike discovered in their drunken epiphany that the Lost Highway of Reverend Hank Williams and the Highway To Hell of Bishop Bon Scott were indeed the same identical stretch of tarmac, they were well and truly prepared to document this historic revelation in situ.
East Nashville, Tennessee in the Summer of 2000 was a proper Bohemian party place. Nobody had any money, but since the playing field was level, nobody much let that get in the way of anything fun, and a few other friends stopped by, drank some whiskey, and played and sang on this recording here and there. And ten classic AC/DC songs were suddenly re-imagined and recorded forever anew, entirely reinvented as Appalachian Mountain hillbilly rave-ups. Everyone danced (oh how they danced!) around the studio room and out onto the front porch and drank more whiskey. *You should have been there. Really. You should have.)
Fast forward to 17 years, 14 further albums - consisting of both original songs and reinterpretations - and over 1,200 live shows later, and Hayseed Dixie have evolved into a proper force, one that most people either love, hate, or have never heard of. There isn't really any middle ground, nor should there be. Hayseed Dixie are the undisputed creators of the musical genre, Rockgrass.
Now, about the BRAND NEW ALBUM! Released worldwide on April 14, 2017, "Free Your Mind and Your Grass Will Follow" is the 15th studio album. It finds Hayseed Dixie holding up their own idiosyncratic mirror to an unsettled and unsettling 2017 in a collection of both original songs and reinterpretations of R&B and Soul classics. Dance and sing along with Hayseed Dixie as they probe the queries: "Why do we still believe there is such a thing as 'race'?" "Are concepts like 'nations' and 'nationality' really useful to people who lay bricks or perform kidney stone removal surgeries?" and "Why does every song always sound better with a banjo in the mix?" The boys are seeking after the root core categorical commonality that runs like an eternal golden braid throughout all of humanity - so they can buy it a drink!
Thirteen Stars
Charm, swagger, talent, confidence, style in spades, If you were asked to describe the band Thirteen Stars then any or all of the above would apply. Armed with killer songs, killer moves and killer presence. Thirteen Stars live performances are at the pinnacle of their arsenal. Grinding out shows relentlessly over the last decade they have risen to the task of satisfying large audiences all over the UK and Europe, they have amassed a strong and loyal following and since signing with Off Yer Rocka records their popularity has soared as they were welcomed with open arms by the ever loyal ever loving HRH community.
2015s 'White Raven' is the bands latest 10 track foot stomper, critically acclaimed and met with rave reviews, 10/10 from Powerplay, the album coupled with with their live prowess has seen them tour as support for the Quireboys across the UK and into Europe and a full UK support slot with those bluegrass boogie masters Hayseed Dixie. Thirteen Stars have no plans to let off the gas either, a new album written, new shows up and down the country booked and a host of festival appearances in the bag the lads are chomping at the bit to cement their place as the champions of down right dirty blues boogie woogie music.
Andy, Ryan, Jax and Hoss are Thirteen Stars, they live and breathe this, if you are in any doubt at all then do yourself the biggest favour you can and get to a show, it's honest, it's real, its raw and it's as good as it gets, Thirteen Stars are here for the duration, downright dirty, downright dangerous and downright awesome.