Billy Bragg 'Bridges Not Walls Tour' - Sold Out!
Tue 21st Nov 2017
Doors:

8:00 pm

/
Show:

8:00pm
(Showtimes Approx)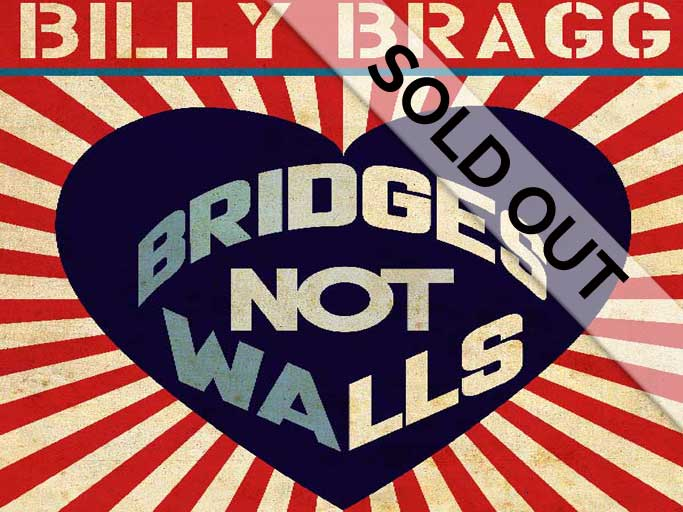 The Bard of Barking
£22 Adv / £25 Door
Billy is touring new album 'Bridges not Walls' an album inspired by these divisive times. It's a pleasure to welcome you to The Brook sir!
Billy Bragg
BILLY BRAGG ANNOUNCES 'BRIDGES NOT WALLS' SOLO TOUR
Fresh from touring the world with Joe Henry and galvanised by 'events', not least the worrying rise of popularism, Billy Bragg is dealing with it in the best way he knows how, by strapping on his electric guitar and heading out on tour across the UK and Europe in November, under the title 'Bridges Not Walls'. Billy, in one-man Clash mode, will perform songs from his 30+ year career, some pertinent covers by his heroes and mentors and some freshly minted songs about the state of the world.
Says Billy: "Music can't change the world, but it does have the power to bring people together. In such divisive times, it seems a good place to start."
Billy Bragg and Joe Henry will play the final shows of their acclaimed 'Shine A Light' tour in Australia in April.
Billy Bragg has been a fearless recording artist, tireless live performer and peerless political campaigner for over 30 years. Among the former Saturday boy's albums are his punk-charged debut Life's a Riot With Spy Vs Spy, the more love-infused Workers Playtime, pop classic Don't Try This At Home, the Queen's Golden Jubilee-timed treatise on national identity England, Half-English, and his stripped-down tenth, Tooth & Nail, his most successful since the early 90s. The intervening three decades have been marked by a number one hit single, having a street named after him, being the subject of a South Bank Show, appearing onstage at Wembley Stadium, curating Left Field at Glastonbury, sharing spotted dick with a Cabinet minister in the House of Commons cafeteria, being mentioned in Bob Dylan's memoir and meeting the Queen. At their best, Billy's songs present 'the perfect Venn diagram between the political and the personal' (the Guardian).
Sean McGowan
Raised on a diet of The Clash, The Jam, Specials, Billy Bragg and other such politically-charged, punk-ignited British pop, 24 year old Southampton-born troubadour Seán McGowan had been playing up and down the UK for five years, and DIY released three EPs (given away / sold on a "pay what you want" basis at shows), before catching the ears of the music industry at 2013's Great Escape festival.

An appearances on Billy Bragg's Left Field stage at Glastonbury that year saw Seán exposed to his biggest audience yet, and touring / playing shows with artists the likes of Get Cape. Wear Cape. Fly, The Rifles, Beans On Toast and Frank Turner.
In early 2014, Seán McGowan started piecing together a new record with Sam 'Get Cape' Duckworth at the controls, at Sam's own Amazing Grace studio in London.
The first fruits of the sessions are two slices of teenage Southampton life entitled 'Come Unstuck' (featuring Frank Turner on backing vocals) and 'Swings & Roundabouts', and were released as a double a-side 7". He spent the rest of the year on the road. Touring with 'Get Cape' all over the UK and 'Rob Lynch' all over mainland Europe.
2015 saw Seán on the road pretty solidly. Supporting 'Skinny Lister' and then embarking on his first ever headline tour in December to packed rooms all over the UK. The release of 'Look Lively' set McGowan up nicely.
2016 has proved to be the most exciting yet. Supporting 'Recreations' and 'Grace Petrie' in the first half of the year. The second half saw the release of his single 'No Show' and resulted in a small full band sold-out UK tour.
2017 is up for grabs with new single 'Apple Core' and a month long solo UK headline tour happening; be sure to get involved